Shop
The Best Decision is an Educated Decision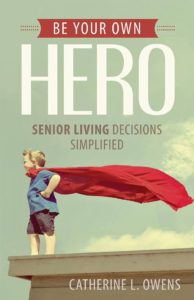 Making senior living decisions can be an overwhelming process for seniors and their adult children. It is often difficult to understand the services that are available and when to utilize them, as well as what questions to ask and how to ask them. Because of this, Catherine L. Owens was inspired to write "Be Your Own Hero: Senior Living Decisions Simplified," a book outlining the senior living decision process. Her book will show you how to:
• Make proactive, educated decisions versus reactive, crisis-driven decisions
• Identify the key influencers and their roles in the decision process
• Define what independence means to you and your loved one
Whether you are an aging adult starting to consider senior living services or an adult child of an aging parent recognizing growing needs and concerns of a loved one, Be Your Own Hero is full of helpful information that can simplify, inform, and enlighten you as you begin the process of looking into senior living services.
Choose from an individual copy for yourself or a friend, or choose a case of 25 for your staff, clients, or your shop by using the drop-down menu below.
(Shipping costs are included in the price.)
No products were found matching your selection.